SUTOUKATSUYA


(Japanese: ストーカツヤ - すとうかつや - Sutoukatsuya)

ALIAS: Katsuya or Stalkatsuya
NAME INTERPRETATION:
ストーカツヤ (Sutoukatsuya) – ストーカー (Sutoukaa = stalker) and カツヤ (Katsuya, a japanese male given name) combined.

TYPE: UTAUloid / Stalker
MODEL: ?
GENDER
Male
VOICE RANGE
UNKNOWN
RELATED CHARACTERS

Farid Kanon (friend)
Sami Sarune (love interest and stalker object)

AGE

19

GENRE
Any
HOMEPAGE
NONE YET
WEIGHT
78kg
CHARACTER ITEM
System camera
CREATOR

Mariarl (voice and original design)
Sarumi(oto.ini:ing)

HEIGHT / MEASUREMENTS
1,81 cm
VOICE SOURCE

Mariarl

PICTURE LINK LIST
None
BIRTHDAY
November 11, 1993
LIKES
Sarune Sami , Kinky stuff, Cats and Vampires.
MEDIA LIST
YOUTUBE
RELEASE DATE
Coming soon
DISLIKES

-

SIGNATURE SONG
PERSONALITY: Coming soon
Character Design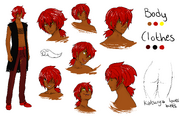 Hair:
Red fluffy hair, if he takes out the elastic band in his hair. It is still fluffy but he want too keep his hair in place, and not on his face.
Eye color: Yellow with a darker colour of yellow.

Earphones: He dont have any, maybe in the future.
Shirt: Net thing too hide his ni**les.
Pants: Just some red regular jeans, with some holes he did himself, too look more cooler.
Feet: Normal ugly old shoes.

Nationality/Race: He is born in Sweden but is from Afrika.
Catchphrase: He dont have any, people sees him like a big pervert.
Voice Configuration
Sutoukatsuya has a private voicebank in development.
Ad blocker interference detected!
Wikia is a free-to-use site that makes money from advertising. We have a modified experience for viewers using ad blockers

Wikia is not accessible if you've made further modifications. Remove the custom ad blocker rule(s) and the page will load as expected.