Ad blocker interference detected!
Wikia is a free-to-use site that makes money from advertising. We have a modified experience for viewers using ad blockers

Wikia is not accessible if you've made further modifications. Remove the custom ad blocker rule(s) and the page will load as expected.

Takara Akemi/Takapoid
Name Meaning: Takara (Treasure) Akemi (Brights and Beautiful)-Bright and Beutiful treasure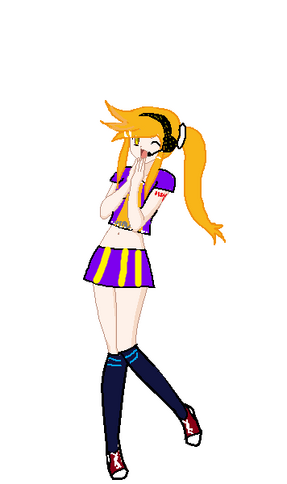 Gender: Female

Voice Range-  D#3-C#5
Voice Provider-Unknown
Language: Japanese/English (English only in v3)
Related Singers- None
Version-V3
Age:19
Intended Genre- Pop/Rap/Electro
Weight- 63Kg (139 pounds)
Character Item-Gold Coins
Creator-N/A
Height-5'7
Birthday-April,8th 1995
Release Date-October 12th,2006
Likes-The color yellow,coins,Company

Dislikes-Idiots, Brats, Breathy notes
Hair color-Golden
Eye color-Yellow
Headphones-Black with Golden sparkles
Dressed-Yellow tube top with A purple petty coat, Purple/Yellow striped skirt, Navy kneesocks and red converse
Barcode number: 0084
Most famous Cover- Her cover for Ura Omote Lovers.