Tenebie




てねび - テネビ - Tenebi

NAME INTERPRETATION:
Tenebrae's nickname of which he is a decendent
TYPE: FURloid / ANIMAloid
MODEL: N/A
GENDER
Male/Genderless
VOICE RANGE
Varies based on append used
RELATED
CHARACTERS:
AGE
Ageless
GENRE
Any
HOMEPAGE
Youtube Channel
WEIGHT
~90lbs
CHARACTER ITEM
Magic staff
CREATOR
TenebieCenturion/Tenebie01
HEIGHT
~5 feet tall
VOICE SOURCE
Tenebie01
PICTURE LINK LIST
http://tenebie01.deviantart.com/
BIRTHDAY
N/A
LIKES
The outdoors, other vocalists, fresh fruit
MEDIA LIST
https://www.youtube.com/user/TenebieCenturion
RELEASE DATE
June 13 2013
DISLIKES
Being alone, vegetables
SIGNATURE SONG
None
ADDITIONAL INFO: Tenebie has the mindset of young child and acts like one.

He's a deredere and holds his friends very dear.

Voicebanks

ACT0 was never released to the public due to it's horrendous quality and lack of configuration.

ACT1 Was slightly better in quality but his voice still came out raspy

ACT2 was the first update to feature appends: Normal, Power, Soft, Sweet, and Dark. However his voice came out very squeaky-ish...

ACT3 is the current release. It has the same appends as ACT2, but with better recording quality.

Flags: Normal: g-7 Power:B0g-7 Soft:B70g-7 Sweet:g-7 Dark:g-7

ACT4 will be a VCV release of Tenebie's Normal, Soft, Power, and Sweet Voicebanks. As of now Only the Normal VCV bank has been completed.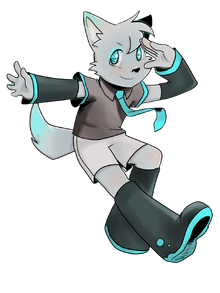 Ad blocker interference detected!
Wikia is a free-to-use site that makes money from advertising. We have a modified experience for viewers using ad blockers

Wikia is not accessible if you've made further modifications. Remove the custom ad blocker rule(s) and the page will load as expected.