Tengo Tamashi




(Japanese: 多摩使テンゴ - たましてんご - Tamashi Tengo)

NAME INTERPRETATION:
Go from 卵 Tamago (Egg) and ​使 Shi from 天使 Tenshi (Angel) switched around to form Tamashi Tengo
TYPE: EGGLOID
MODEL: 96
GENDER
Male
VOICE RANGE
C4 ~ C5
RELATED
CHARACTERS:
AGE
20?
GENRE
 ???
HOMEPAGE
Tumblr
WEIGHT
Average
CHARACTER ITEM
Egg
CREATOR
Cecil Eggs
HEIGHT
5'11 feet

(180 cm)

VOICE SOURCE
Cecil Eggs
PICTURE LINK LIST
Tumblr
BIRTHDAY
July 9th, 19??
LIKES
Eggs, egg-based dishes (especially omurice), all things soft and cute, cloudy weathers
MEDIA LIST
Tumblr

(More to come)

RELEASE DATE
July 9th, 2017
DISLIKES
Being mistaken for/called a Tengu, being touched without permission
SIGNATURE SONG
N/A
ADDITIONAL INFO: Tengo is very careful around new people, often too shy to say much at all. This shyness also gives him stage fright, making it particularly difficult for him to start a performance in front of a lot of people - but when he's started singing, it's almost in a whisper, making his voice soft and gentle.

(See his blog for more information as he'll be in a near-constant development).
Supplemental Information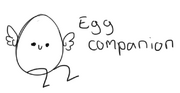 Hair color: White with a yellow stripe
Headgear: Headphones
Eye color: Yellow
Headphones: Feathered headphones
Outfit: An oversized yellow sweater with an egg on it, black pants and yellow shoes with small wings
Nationality/Race: Japanese? Human? Or is he an egg in disguise? (final details TBA)
Tengo has a little "Companion Egg" named オム (Omu) (from オムライス - Omurice).
Voice Configuration
Tengo's voicebank is in Japanese language only. His voice data is written in Hiragana, but has Romaji aliases in his ono.ini (Which means USTs written in Romaji work too). Breath sounds are still only experimental.
Tengo's voice is soft like a whisper, so it works best with calm songs.
So far, only a CV voicebank is released. A link to the newest version of his voicebank can be found on his blog .
Ad blocker interference detected!
Wikia is a free-to-use site that makes money from advertising. We have a modified experience for viewers using ad blockers

Wikia is not accessible if you've made further modifications. Remove the custom ad blocker rule(s) and the page will load as expected.