Supplemental Information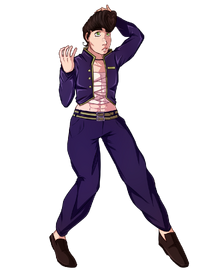 Hair color: Dark, Chocolate brown.
Eye color: Green
Body Type: Average height. Thighs have the most weight, does workout to maintain his abs and arm muscle.
Outfit: Dark purple with green accents.
Nationality/Race: Northern Irish (British)
Link To Voice Bank
Terry Quint VCV: http://www.mediafire.com/file/7i5k09q9dno71ie/Terry+Quint+VCV.rar
Terry Quint VCCV ENGLISH: https://www.mediafire.com/file/a4jh3y7g53y1rpt/Terry%20Quint%20VCCV.rar
Terms and Conditions
Credit (and link back if possible, I'd love to see/hear!) Tooooty or TaffyTootz whenever you use any of his voicebanks and do not claim them or his design as your own.