| | | |
| --- | --- | --- |
| | | Terry Quint |

NAME INTERPRETATION:
Delinquent
TYPE: 97
MODEL: None
GENDER
DFAB (He/They)
VOICE RANGE
C3~C5
RELATED
CHARACTERS:
AGE
20
GENRE
Not defined
HOMEPAGE
Unknown
WEIGHT
216lbs
CHARACTER ITEM
A small, green beanie bear. (+ heart comb)
CREATOR
Tooooty
HEIGHT
5'7ft
VOICE SOURCE
Tooty
PICTURE LINK LIST
Not available
BIRTHDAY
June 5th
LIKES
Beanie bears, musicals, diners, great big stacks of pancakes, hair tutorial videos.
MEDIA LIST
https://www.youtube.com/playlist?list=PLBc1RM46eXv5-WCYnoyfx9qP-u8dHMnX8
RELEASE DATE
June 5th
DISLIKES
The dark, worms, spiders, tummy aches.
SIGNATURE SONG
Unknown
ADDITIONAL INFO: Terry has trouble maintaining their hairstyle, even though they can just simply not style it everyday. Wants to keep That Look.

- Set age is 20 and is dressed like that because they play the role of the delinquent in opera houses and such.

- Though when 17 they got roped in with some group, which started the overall dressing and posing trend.

- They weren't all bad guys, so Terry is still definitely friends with some of them.

- When they're really passionate about something their overall inflection changes, more of the drawn out rolling Rs like you would hear in your Bad Boy Animes.

- LOVES musicals
Supplemental Information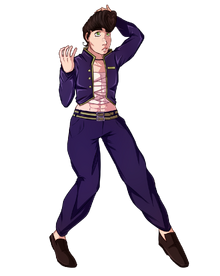 Hair color: Dark, Chocolate brown.
Eye color: Green
Body Type: Average height. Thighs have the most weight, does workout to maintain his abs and arm muscle.
Outfit: Dark purple with green accents.
Nationality/Race: Northern Irish (British)
Link To Voice Bank
Terry Quint VCV: http://www.mediafire.com/file/7i5k09q9dno71ie/Terry+Quint+VCV.rar
Terms and Conditions
Credit (and link back if possible, I'd love to see/hear!) Tooooty or TaffyTootz whenever you use any of his voicebanks and do not claim them or his design as your own.
Ad blocker interference detected!
Wikia is a free-to-use site that makes money from advertising. We have a modified experience for viewers using ad blockers

Wikia is not accessible if you've made further modifications. Remove the custom ad blocker rule(s) and the page will load as expected.