Tetsu




Otah

NAME INTERPRETATION:
Tetsu- A pun on Test

Otah- A pun on Utau

TYPE: Experimental utau
MODEL: Experiment 001
GENDER
Unknown
VOICE RANGE
C4-C5
RELATED
CHARACTERS:
AGE
15
GENRE
Soft slow songs
HOMEPAGE
N/A
WEIGHT
183lb
CHARACTER ITEM
Mouse Ears
CREATOR
GingyKrisp
HEIGHT
4ft
VOICE SOURCE
GingyKrisp
PICTURE LINK LIST
Not available
BIRTHDAY
December 13th
LIKES
Whatever Otah is told to like.
MEDIA LIST
N/A
RELEASE DATE
January 17th 2018
DISLIKES
Whatever Otah is told to dislike.
SIGNATURE SONG
TBA
ADDITIONAL INFO: Tetsu Otah is an experimental UTAU, she is a prototype for any upcoming UTAUs made by GingyKrisp.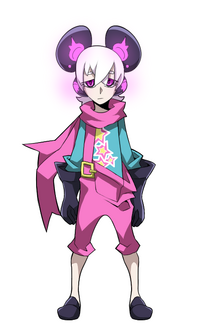 Supplemental Information
Hair Colour: White
Headgear: Headphones with mouse ear attachment
Dress: Wears a bright pink scarf and overalls at knee lenght, a blue long sleaved shirt with stars, big black gloves and small black slip ons. Was drawn and designed by: https://tapastic.com/wwwcjcaballes
Nationality/Race: Unknown
Favourite catchphrase: N/A
Voicebanks
Tetsu Otah CV- https://www.mediafire.com/file/vkvjoh1wh06qrnk/Tetsu%20Otah%20ACT%201.zip (Will be updated with a new rerecording soon)
Terms Of Use
R-18 Content Allowed? Forbidden
Commercial Use of Voicebank Allowed? Forbiden
Commercial Use of Character Allowed? Permission Required
Do these terms apply to derivative characters/voices? Derivatives of any sort are forbidden