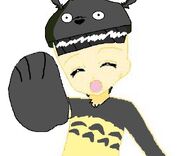 Totoropoid is a 7-year-old UTAU. He is a "Totoro" addict, and he cosplays him. He has a Totoro plushie. He is very friendly, bouncy, and cute.
Totoropoid's statistics.
Name(s):
Totoropoid
Totoro
Age:
7
UTAU friend(s):
Rook Yokune
A bouncy, fun companion, Rook does many duets with Totoropoid.
Vocaloid friend(s):
Gachapoid
Even though he's from the "enemy" program, they go to the same school and are best friends.
Character Item:
Totoro Plushie
His "Totoro" plushie is his prized possession, but, when frustrated with friends like Gachapoid or Rook, he will throw the toy at them.
Family Member(s)
None released yet
Trademark song:
"My Neighbor Totoro" Theme.
He will constantly sing this song.
Ad blocker interference detected!
Wikia is a free-to-use site that makes money from advertising. We have a modified experience for viewers using ad blockers

Wikia is not accessible if you've made further modifications. Remove the custom ad blocker rule(s) and the page will load as expected.