TOUSHI AKAYUME


(Japanese: 赤夢 トウシ - あかゆめ とうし)

NAME INTERPRETATION:
"Akayume Toushi" Only name obtained in the author's mind.
TYPE: TYPOLOID
MODEL: E-45
GENDER
Male
VOICE RANGE
C3~F#4
RELATED CHARACTERS

Koto Fumi (Girlfriend) 

Zenzi Guriya (Brother)

Utaune Nami (Idol)

Kasane Ted (Idol)

Kasane Teto (he first crush)

AGE
18
GENRE
Pop, Electronic, Instrumental
HOMEPAGE
Gin-Kaido Voicebanks
WEIGHT
132 lbs (60 kg)
CHARACTER ITEM
Fantasy Sword (since His knife was stolen by his brother)
CREATOR
Gin-Kaido
HEIGHT
5'11" feet (180 cm)
VOICE SOURCE
Gin-Kaido
PICTURE LINK LIST
DEVIANT ART
BIRTHDAY
September 7, 1998
LIKES
Ramen, Fried Noodles, When people happy because him, Manga, When people fell pain, Evil Charactes
MEDIA LIST
RELEASE DATE
July 7, 2016
DISLIKES
Pineapple, Fly, Good characters
SIGNATURE SONG
Love Love Nightmare
PERSONALITY: Akayume Toushi is a Anti-Social Loner. He is also quiet and has little to say in speech. He also possesses a high sense of affection for the people he loves. He preferred to fend for themselves in comparison to cooperate, because He knows that there is bad faith behind Friendship.
Supplemental Information
Hair color: (Light Red)
Headgear: (Headphones)
Eye color: (Dark Orange in left and Light Red in right)
Earphones: (Dark black and dark yellow look like a walkie talkie)
Dress/Outfit: (Japanese school uniform with Ninja Gloves and Black Striped Red Boots)
Others: (He uses a fantasy sword that can be a katana and lightsaber)
Nationality/Race: (Originally Indonesia, but speak Japanese)

Voice Configuration
flags: g-6Y15H5t5C99BRE20 (must have g-6)
recommended resampler: Default
Use him at C3 range
ACT 1 : There are many words that are less obvious
ACT 2 : some words have been repaired and there
        are some words that have not been repaired
        like "ka, mi, me, n"
ACT 3 : All the words have been fixed
ACT 4 : Fixed OTO
Concept Art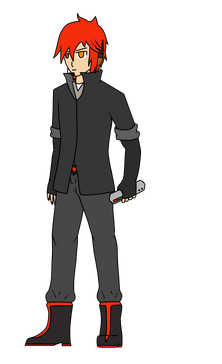 This is Last Design of Akayume Toushi
 This article is written and certified true and correct by the author of the character. The details seen here may be subject to change without prior notice.
Voice Sample