TSUBASA KANASHINE


(Japanese: 夏音愛美 - なつねあいみ - Kanashine Tsubasa)

NAME INTERPRETATION:
夏音 (Kanashine; Sorrowful Sound) - She is very shy and tends to sing sad songs.
愛美 (Tsubasa; Wings) - She prefers feathers.

TYPE: UTAUloid
MODEL: U2 - U2 stands for "UTAU2" because she was the second UTAU Nikki-chan created.
GENDER
Female
VOICE RANGE
UNKNOWN
RELATED CHARACTERS


Merodii Mikune (Older friend and song partner) Ogama Shi (Fellow UTAUnited and song partner) Aimi Natsune (Best Friend and song partner) Nathaniel Lee (Fellow UTAUnited)

AGE
13
GENRE
Any
HOMEPAGE
deviantART
WEIGHT
UNKNOWN
CHARACTER ITEM
Feather, Bells
CREATOR
Nikki-chan
HEIGHT / MEASUREMENTS
5 ft 2 in
VOICE SOURCE
Nikki-chan
PICTURE LINK LIST
deviantART
BIRTHDAY
August 8, 1998
LIKES
Doves, being alone, singing softly, VOCALOIDS, her friends
MEDIA LIST
N/A
RELEASE DATE
N/A
DISLIKES
Birds of prey, being in crowds, having to sing on stage
SIGNATURE SONG
N/A
PERSONALITY: Tsubasa is a very shy individual who wishes she were more wellknown throughout the UTAU franchise. She loves to write sad poems and has an obsession with small birds, especially doves. She idolizes Iroha Nekomura and Nami Utaune. She is called "Tsundere" by her friend Merodii Mikune, but she is not one. She is more of a deredere.
Character Design
Hair color:
Blonde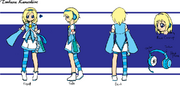 Eye color: Blue
Shirt: Blue sailor shirt similar to Rin's. A white clip is fastened onto one side of the collar. A bell is attached to a ribbon.
Jacket: None.
Pants: A white miniskirt with a blue fringe and blue leggings.
Feet: White with blue paddings.
Nationality: Japanese
Voicebanks
Tsubasa's ACT1 is Romaji encoded with Hiragana Aliases. Her voicebank is being worked on. ACT1
Download: NONE currently
Genderbend
None at the moment.
Facts
Tsubasa is a deredere and prefers to be alone.
Usage Clause
Do not change any appearances that already be given out unless the creator has changed it.
Avoid any mary-sues.
Please do not pitch or change the voicebank.
Allowed to be use freely.
This is not required, but is recommended, that if you use Tsubasa's voicebank you should notify Nikki-chan.

Certified true and correct from Tsubasa's creator, Nikki-chan or UTAUnitedNikki. Please do not change anything here without her permission. The contents of this page is subject to change without prior notice.
Ad blocker interference detected!
Wikia is a free-to-use site that makes money from advertising. We have a modified experience for viewers using ad blockers

Wikia is not accessible if you've made further modifications. Remove the custom ad blocker rule(s) and the page will load as expected.