{{speedydelete|<Voicebank link is Vocaloid wiki's articles for the Kagamines>}}

Tsuki Hana -Tsuki Komodo
(Name in Japanese: 月華月下花月子)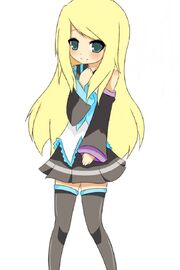 (Japanese: 月華-Gekka-月下-月下 花- Moon light flower)
(Japanese:月-moth-moon子- moon child)
NAME INTERPRETATION:
月 (month moon)- meaning moon (tsuki komodo)-moon child
TYPE: Flowerloid
MODEL: 82
GENDER female VOICE RANGE (Has a high voice unsure yet)
RELATED CHARACTERS: Hatsune Mikuo (Crush/her side)
San De Ichi (friends)
Momo Momone (Idol)
AGE: 15
GENRE: Slow/Pop/Other/ Easy listening
HOMEPAGE: Tsuki Hana wiki
WEIGHT: 46 kg
CHARACTER ITEM: Moon flower
CREATOR: Monty1st/Maddison
HIGHT/MEASUREMENTS: 140.6 cm
VOICE: Kagamine Rin (but much higer)
PICTURE LINK LIST: Tsuki Hana
BIRTHDAY: 19 of February
LIKES: Moon flowers, chewing on Hatsune Mikuo's tie, imitating others talking to the wind
MEDIA LIST:
RELEASE DATE: 30 of February
DISLIKES:Being loud,every one looking at her,other's saying she can't sing
SIGNATURE SONGS:
PERSONALITY: Tsuki Hana is extremly shy for her age/own good though she is seemd as being cheerful around others,and she becomes fixated with certain objets/things.
Ad blocker interference detected!
Wikia is a free-to-use site that makes money from advertising. We have a modified experience for viewers using ad blockers

Wikia is not accessible if you've made further modifications. Remove the custom ad blocker rule(s) and the page will load as expected.