| | | |
| --- | --- | --- |
| | | TSUKIKI MONA |

(Japanese: - Mona Tsukiki - モナ 月希)

NAME MEANING:
Tsukiki - 月希 - Meaning Moon (月) Hope (希)

Mona - モナ - Looks similar to Moon. Named after one of his creators friends

TYPE: UTAUloid - Series called Minoruloids

MODEL: 04 (Located on his forehead. Often covered by his hair)

GENDER

Male

VOICE RANGE

F2 - D6

RELATED CHARACTERS

Lucetta Hageshine (Friend and fellow Minoruloid) 

Mono Kura (Fellow Minoruloid and usual target)

Dave Melankolisk (Friend)

AGE
21
GENRE
Ballads, Slow songs
HOMEPAGE
WEIGHT
CHARACTER ITEM
A Broken Chair or Cheese
CREATOR
Skul4eva /HarukaNiji
HEIGHT
5'9"
VOICE SOURCE
Skul4eva /HarukaNiji
PICTURE LINK LIST
BIRTHDAY
26th of May
LIKES
Fights, the Moon, annoying people, being annoying,
MEDIA LIST
N/A
RELEASE DATE

6th of January 2014

DISLIKES
Being yelled at, 
NOTABLE WORKS

N/A

PERSONALITY: Tsukiki likes to annoy most people, but Mono the most. He's not a bully, he just doesn't know when to stop being annoying. Tsukiki is the sort of person who will get into fights for no reason other than because he felt like it. He'll even start fights with anyone. He is nicer to his friends than he is to most people he meets. 
Supplemental Information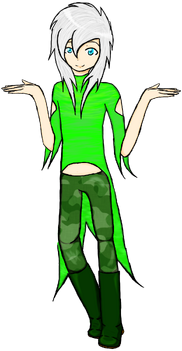 Hair color: White
Eye color: Bright blue
Outfit: A green top with Khaki trousers (See right)
Headgear- None
Gloves- None
Shoes- Very dark green boots

Nationality: English
Race: UTAU
Voice Configuration
Tsukiki's ACT 1 CV voicebank can be downloaded here .
It works best with the default resampler that comes with UTAU and the flags g+3L1Y0H5c99, although g+3 works too.
Usage Clause
[GENERAL USAGE]
It is strictly forbidden to alter/redistribute Tsukiki's voicebank without permission from Skul4eva on deviantART, Twitter or HarukaNiji on Youtube. Forms of use (media, art, etc.) relating to Tsukiki require contacting Skul4eva for permission.You do not need to ask for permission to use Tsukiki for a cover, as long as you link me back to the cover through any of the 'links below.
Please remember to also follow the UTAU Rules and Regulations.
[POLITICAL/RELIGIOUS CONTENT]
Do not use Tsukiki for anything that violates laws, or offends any type of group, race, or moral.
[MATURE CONTENT]
If you are unsure whether content made using Tsukiki is appropiate, please contact Skul4eva through any of the contacts below. 
Contacting Tsukiki's Creator
If you have any questions, queries or problems, you can contact me through one of the following websites:
Email: NinaZero@hotmail.co.uk
All content and information on this page is made accurate and approved by Tsukiki's creator, Skul4eva. The details seen here may be subject to change without prior notice.
Ad blocker interference detected!
Wikia is a free-to-use site that makes money from advertising. We have a modified experience for viewers using ad blockers

Wikia is not accessible if you've made further modifications. Remove the custom ad blocker rule(s) and the page will load as expected.