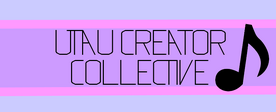 Summary
UTAU Creator Collective is a group consisting of 4 core members, Emily Pinku, SillyUtau, Mixtence, and BadGirl Murphi.It was founded on February 2nd 2016 by Emily Pinku.
Utauloids in the Collective
Mi Minami: Created by Emily Pinku
Chi and Usagi Suzuki: Created by SillyUtau
Natsuki Anami, Kasumi Kato, Midori Mori and Mitsuki Anami: Created by Mixtence
Murphi: Created by BadGirl Murphi
Ad blocker interference detected!
Wikia is a free-to-use site that makes money from advertising. We have a modified experience for viewers using ad blockers

Wikia is not accessible if you've made further modifications. Remove the custom ad blocker rule(s) and the page will load as expected.