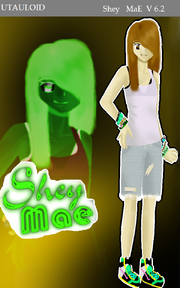 (I'm sorry for resorting to this, i dont know how to do a grid. I keep messing up with it XD)
Name: Shey MaE
Gender: Female
Age: 14 Years
Weight: 110 lbs
Height: 5' 5"
Birthday: April 4th
Release date: 7/14/2012
Voice Range: C3 - C7
Genre: Rock, some pop
Character Item: Hamburger
Voice Source: SheySheyshadow (SheyShey_Shadow), Sheysheyshadow On youtube, EvangelionUnit113 on Deviantart
Likes: Food, playing around, being online, monster, manhunt, pranking people, being with friends, singing, playing guitar, wrestling, smoothies, baby food
Dislikes: Being hated, being alone for too long, being caged, being pranked, school, veggies
Related characters: N/A
Homepage: N/A
Creator: Sheysheyshadow
Picture link list: Deviantart
Media List:Youtube
Signature song: N/A
Personality: Usually happy-go-lucky, easily annoyed, quick to anger, fun to be around, good sense of humor, loves animals, hydrophobe and a technophobe
---
Shey has several appends including the following:
Screamo
Lazy
Sweet
Soft (Coming soon!)
Sleepy
Hyper
Unclear
Rabid
Power (Coming soon!)
Adult
Whisper (Coming soon!)
And I will release them all in an append pack as soon as possible!!
---
Also, Shey has several other voicebanks in other languages, such as:
Japanese
Korean
Spanish
English
---
You can download her Japanese voicebank   Here!! Just be sure to contact me on youtube or deviantart and link me what you've done with her!! If not, i will take the voicebank down. 
If you need her transparent art, find it on my DA!
Ad blocker interference detected!
Wikia is a free-to-use site that makes money from advertising. We have a modified experience for viewers using ad blockers

Wikia is not accessible if you've made further modifications. Remove the custom ad blocker rule(s) and the page will load as expected.