Hey guys!I have made a UTAU called Sarah-chan!Here are her details!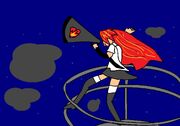 Name:Sarah-chan
Age:14
Birth date:18th december 2010
faviroute fruit:Red apple*please dont ask -_-*
Least fruit:Lemon
So i hope you like her =D
Ad blocker interference detected!
Wikia is a free-to-use site that makes money from advertising. We have a modified experience for viewers using ad blockers

Wikia is not accessible if you've made further modifications. Remove the custom ad blocker rule(s) and the page will load as expected.