| | | |
| --- | --- | --- |
| |   | Umbra Luna |

GENDER

(Trans) Male

VOICE RANGE

F4~A#2

RELATED CHARACTERS
AGE
17
GENRE
Any
HOMEPAGE
None
WEIGHT
130lbs
CHARACTER ITEM
Spiders
CREATOR

MalCat

HEIGHT
5'7"
VOICE SOURCE
MalCat
PICTURE LINK LIST
Gallery
BIRTHDAY
October 29
LIKES
Spiders, creepy things, horror movies
MEDIA LIST
RELEASE DATE
July 26, 2014
DISLIKES
The color pink, cute things
SIGNATURE SONG
ZOMBIE MAKER
PERSONALITY: Umbra Luna is the Spider King. He is often called this due to his unusual ability to control spiders and being able to materialize living spiders from thin air. He is very sarcastic and mean-spirited, but can be very nice when he wants or needs to be. He lives with Trace, and is the only one out of the both of them who ever leaves the house. He spends most of his time at night, watching horror movies and playing horror video games with his various pet spiders.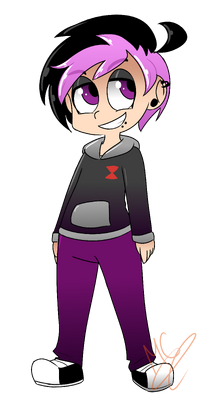 Character Design
Hair color: Top is black, bottom is light purple
Eye color: Purple
Headgear: None
Headphones: None
Outfit: Black jacket with a small red hourglass symbol on the front, the hourglass symbol on the back (but larger), Dark purple pants, black shoes
Extra: Eight large spider legs jutting from his back (optional)
Nationality/Race: American/Human-Demon
Voicebank
Umbra Luna can sing in Japanese and English
Has Romaji and Hiragana aliases
​Released Banks
Planned Banks
MMD Model
MMD model made by SorasNightshade, can be downloaded here.
Fun Facts
Umbra Luna honestly doesn't care which of his names you call him (though "Luna" is usually reserved for loved ones)
He gained his spider powers by corruption, causing part of his hair and parts of his skin, such as under his eyes, to become permanently stained black.
His only fear is water.
100% not a morning person.
Loves coffee.
Umbra Luna is often avoided by others due to his seemingly terrifying powers.
Instead of a bed, Umbra Luna sleeps in a giant spider web (made by himself).
He can play the electric guitar, though completely fails at acoustic
Umbra Luna eats spiders like others eat potato chips
Rules
General:
Be nice to him
Nobody other than the creator can distribute his voicebank.
Nobody other than the creator can take credit for him.
If you use him in anything, be sure to tell me and link me to it through my Talk page or note me on DeviantART!
Voicebank & Content
DO NOT change any sounds in his voicebank.
DO NOT change his basic design very drastically (unless it fits a certain song).
DO NOT involve him in any offensive content.
DO NOT genderbend him or make a Pitchloid of him.
Editing the oto.ini is fine, but do not distribute it.
Use in violent/gorey/horror content is fine.
Use in sexual R18+ content is fine.
Roleplay
Roleplay is fine, just ask me before you do so.
Please don't roleplay out of character.
Fanfiction/Fan Art
Use in fanart and/or fanfiction is appreciated, and be sure to send the me a link to the art/fic that he is used in!
Yaoi is fine
All information on this page has been posted and confirmed true by the creator of this UTAUloid.
Info may be subject to change without prior notice.