UMINE ICHI (Japanese: 海音イチ(Umine Ichi): Umine 海音 sound of sea, Ichi イチ one)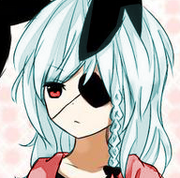 TYPE: UTAUloid; MODEL: 02
Information
GENDER: Female
VOICERANGE: C2 ~ C6
RELATED CHARACTERS: Fuyu Keiichi (best friend, crush), Kaito Shion (idol)
AGE: 14
GENRES: Everything goes
HOMEPAGE: unknown
WEIGHT: 39kg /85,9lbs
CHARACTER ITEM: Leather covered book
CREATOR: sani-chan
HEIGHT: 152cm /4.9ft
VOICE SOURCE: sani-chan
PICTURE LINK LIST: unknown
BIRTHDAY: November 14
LIKES: Keiichi, nan-bread, books, reading, milkshakes, music, drawing or anyother peaceful and calm stuff
MEDIA LIST: unknown
RELEASE DATE: 28.8.2013
DISLIKES: cucumber, onions, lemons, messy hair, sleeping, sports
SIGNATURE SONG: Coward Mont Blanc (cover)
PERSONALITY: She's a kuudere. She doesn't actually care about anything, exept what she really likes. From the inside she is sweet and kind. Ichi often fights with Keiichi, because Ichi wants to comb his hair for it being so messy and curly. She wants to take Keiichi to bath to clean up, not with any perverted thoughts. She actually likes to take care of Keiichi.
Design
Picture. She doesn't really have that eyepad.
Media
Her voicebank is private, and sani-chan will share it only with few people.
Downloads and links
Nothing here.