URMILLE S.B

(Japanese: えるみりえすび)

NAME INTERPRETATION:

Urmille - えるみり - (Say; Er-Milly) - No meaning.

S.B - えすび - No meaning.

TYPE: UTAUloid

MODEL: KU-42. It can be found in a barcode format on her lower back.

GENDER
Female
VOICE RANGE
G2ish-C6ish
RELATED CHARACTERS

Urmiles (Genderbend)

AGE
15
GENRE

Any (Pop..?)

HOMEPAGE

You're looking at it

WEIGHT
56kg
CHARACTER ITEM

U.S.B, The universe

CREATOR
urmille
HEIGHT
172 cm (5'6 feet)
VOICE SOURCE

Matthew M

PICTURE LINK LIST
BIRTHDAY

19 September

LIKES
Neon lights, Singing, Computer-related things, Video games, Listening to music.
MEDIA LIST
RELEASE DATE

11/8/2011

DISLIKES

Water or liquids, being restricted from things, foods, being excluded.

SIGNATURE SONG
PERSONALITY: She is kind to everyone, whether they are nice back or not. Urmi will try to make friends with anyone. Urmille is a robot, so she is terrified of water and other liquids. Due to past experiences, she is also claustrophobic and hates being restricted (whether that's physically or by rules).
CHARACTER DESIGN: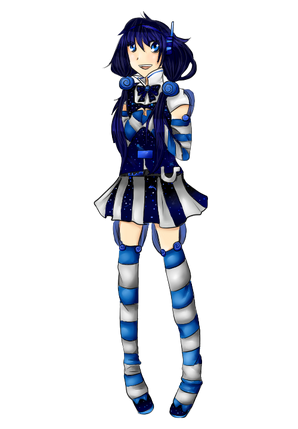 PLEASE NOTE THAT THIS IS ONLY V3 SWEET URMILLE'S DESIGN AND HER REGULAR ONE IS CURRENTLY BEING RE-DESIGNED.
Hair Colour : Black-blue.
Eyes Colour : Blue
Headgear  : Glowing neon hairtie bauble things.
Headphone : Black with glowing blue accents.
Nationality : Undecided (Voicer from Australia)
Clothes: White shirt with a high collar, matching bow and vest, matching arm-warmers and leg-warmers (they connect to her back), belt with "U" and various tuning instruments on it, skirt that matches her vest, shoes that match her vest.
VOICE INFORMATION:
TECHNICAL INFORMATION

Latest VB: ReWIND (act 2)

ARCHIVE FILENAME
Urmille act ReWIND
ARCHIVE FILESIZE
8.8mb
DATE RELEASED

18/3/12

NO. OF VOICE PHONEMES

120

TOTAL UNCOMPRESSED SIZE
9.6mb
PHONEME ENCODING
Romaji
AVERAGE FREQUENCY
C4
FRQ FILE PRESENCE
Yes
LANGUAGES SUPPORTED
Japanese
UNOFFICIAL SUPPORTED LANGUAGES
Engrish
OTO.INI PRESENCE
Yes
TUNED OTO.INI
Yes
LANGUAGE PARSED VIA OTO.INI
Hirigana
VOICER
Matthew M
TECHNICAL DIRECTOR
Matthew M
RECORDING SOFTWARE USED
Audacity
VOICEBANK EXTENSIONS PRESENT

SUGA Urmille,

(Stuffed up genderless append)

Download Status/Link
Download ReWIND here
Genderbend flags

g+13-18

Genderbend range
untested
Genderbend Label

Urmiles
Voicebanks:
1. Slightly failed romaji voicebank. Not availiable anymore unless I'm specifically asked.
1. Updated romaji with missing sounds. Not availiable anymore unless I'm specifically asked.
1.2 OTOed re-recorded decent bank. Not availiable anymore unless I'm specifically asked.
(2) ReWIND. PLEASE, WHAT EVER YOU DO, GET THIS BANK. Completely re-made and sounds so so much better. Download here.
(2) SUGA Urmille. This is (so far) her only append, otherwise known as her 'Stuffed Up Genderless Append'. Also referred to as SUGA or SUMA. This is a private bank and isn't distributed unless asked for.
Note: Anything that is said using 'I, me, my' etc. is being said by Matthew M
FUN FACTS:
Her initials are USB. If you haven't picked it up already, an USB is her character item. Go sneaky me. 
As it says in her personality subsection, she is a robot. She is unable to eat food as it would just clog up  and break her insides. Fluids of any nature will short-circuit her. Every night instead of sleeping she plugs in her power cord.
Her name on my very first picture I ever drew of her (mid 2011ish) was "Urmila Serena Breeanne". This was changed for obvious reasons. Her design has also been altered a lot since then.
The eventual shift of her design going more and more space-themed was due to a little phase I went through. 
A group of banks (core +appends) will -eventually- be made for her. These will be her 3rd 'acts' or 'versions' and will be called her "V3" banks. It stands for Version 3, not Vocaloid3 and I mean no copyright infringement by naming them "V3 Urmille -append name here-".
RULES PERTAINING TO HER USE:
If you do use her, I do not mind what songs you make her sing. If they break the UTAU rules and guidelines I will ask that you remove her from the song. This includes making derivitaves of her image and voicebank. Her name is fairly unique as well so if I see something close to 'Urmille' I may ask you about it, heads up. Other than that, feel free do whatever. Enjoy!
Ad blocker interference detected!
Wikia is a free-to-use site that makes money from advertising. We have a modified experience for viewers using ad blockers

Wikia is not accessible if you've made further modifications. Remove the custom ad blocker rule(s) and the page will load as expected.