Usagi


(Japanese: 兎 Usagi)

NAME INTERPRETATION:
兎: (Usagi; Rabbit) Refers to being a big bunny lover, bunny obsessed and having everything bunnies.

TYPE: none
MODEL: 0612
GENDER
Female
VOICE RANGE
Unknown
RELATED CHARACTERS

none

AGE
18
GENRE
None
HOMEPAGE
WEIGHT
unknown
CHARACTER ITEM
anything bunny
CREATOR
Pelobunii-P
HEIGHT
uknown
VOICE SOURCE
melobunii
PICTURE LINK LIST

Usagi's Deviant art gallery folder

BIRTHDAY
June 12
LIKES
Rabbits, Spring, Singing
MEDIA LIST
RELEASE DATE
June 12, 2015
DISLIKES
 Sleep-mode, glitches, CMD orders
SIGNATURE SONG
✓: Shy | Curious | Kind | Musically Inclined | Clumsy | Vibrant | Obsessive | Rhythmic | Creative| Imaginative

​ ✘: Overwhelm | Sociable | Intelligence | Determined | Fearful | Mature


Download Links

6/12/15- Usagi VCV TIPs, wavtool4vcv.exe or Moresampler'

----

1/28/16- Usagi JACKRABBIT VCV Resampler, wavtool4vcv.exe or Moresampler'

----

5/17/17- Usagi Original 2.0 VCV Resampelr + wavtool4vcv.eve, or Moresampler

Supplemental Information

Brown hair

Fair Skin

Wears bunny headphones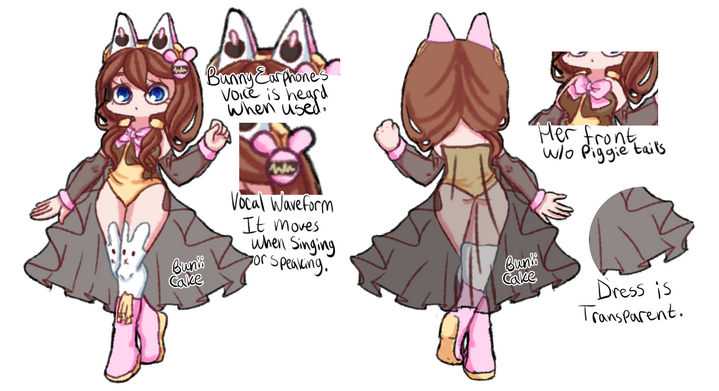 Ad blocker interference detected!
Wikia is a free-to-use site that makes money from advertising. We have a modified experience for viewers using ad blockers

Wikia is not accessible if you've made further modifications. Remove the custom ad blocker rule(s) and the page will load as expected.