Ixbran/Ixbran & Heartly Ximune UTAU Notable Works & Gallery
Talk

0
4,268pages on
this wiki
UTAU Notable Works
Edit
This page is the Notible Works and Gallery page for Ixbran and Heartly Ximune. No one is allowed to edit this page sans for its creator.
Ixbran and Heartly: Music
Edit
The creator of Ixbran and Heartly ask that for those who make music with him, provide an mp3 of the song made and then send it to him, he will then upload it to his mediafire account for all to download.
Download Ixbran and Heartly Songs Here
Ixbran Act 1Edit
Duet's/Chorus'
Edit
I Wont Say (I'm in Love) (Duet with Amagaku)
Heartly Act 1Edit
'Coming soon'
Duet's/Chorus'
Edit
Rotten Men, Grotesque Romance (Duet with Seiji Shikine.)
Go goggle It! (Duet with Seiji Shikine.)
Ixbran & HeartlyEdit
With Others
Edit
God Knows (Chorus: Ixbran Ximune, Heartly Ximune, Hokuro Shiroutone, Speedy Torane, Nukupoid, and Aido Feirune.)
Ixbran and Heartly: MMD
Edit
Act 2 Model
Edit
Character Designs and Concept Art
Edit
Ixbran Song Cover Artwork
Edit
Heartly Song Cover Artwork
Edit
Ixbran and Heartly Song Cover Artwork
Edit
Misc Images
Edit
Station of Awakening
Edit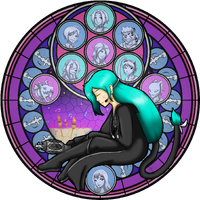 A Station of Awakening is a reoccurring theme within the Kingdom Hearts game series, it is a place within a persons heart that shows what is most important to them. Be it people, objects, or places. In Ixbrans station of Awakening, many people are depicted, most of them Utauloids, some not. This section is meant to describe its purpose, design and colors used.
As said before a persons Station of Awakening depicts what they consider whats most important to them.
Colors: Various purples, pinks, blues and greens are used within Ixbrans Station. Purple, Blue and Green are cool colors, they are associated with a gray or an overcast day. Pink is the only warm color here, warm colors are associated with daylight or sunset. Due to the contrast of "Cool" vs "Warm" within the color spectrum, they also fall within the KH theme of "Light" vs "Darkness". Due to it is Mostly Cool, with a small bit of Warm, it represents the fact that within the darkness, there is always a speck of light. Similar to that of the Yin-Yang, Ixbran representing the Dark Side: Mostly Dark, with a small hint of light within.
Background:Manny will notice that up behind Ixbran is a setting sun, on a beach with Tiki Torches and Musical notes. These represent Ixbrans connection to Water and Music. Ixbrans creator has a massive love for both of these things. Being of the Aquarius star sign, he has a strong affinity to the element of water, and wanted to show that in Ixbrans character, hence his Aqua Green hair color. Ixbrans creator also has a strong love for music, having had this feeling far as long as he can remember. The Torches that line the beach represent Light in a darkening world, via the setting sun. He also has various white notes circling his Station. These are special notes created from modifying the Nobody Insignia used in the Kingdom Hearts series. this symbol is also on his head set. Though he only has one ear-pice, wich is on the Right side of his head. The full design can be seen on his Character Sheet, which is included with his Voice Bank Download.
People and Objects:When a person, or Object, is placed within a Station of Awakening, it usually means this person or item is very important to the one who the station represents. For Ixbran it is the UTAU, and characters, of those who helped him Develop Ixbrans Voice bank, and those who are supportive of him.