Ad blocker interference detected!
Wikia is a free-to-use site that makes money from advertising. We have a modified experience for viewers using ad blockers

Wikia is not accessible if you've made further modifications. Remove the custom ad blocker rule(s) and the page will load as expected.
Kai smith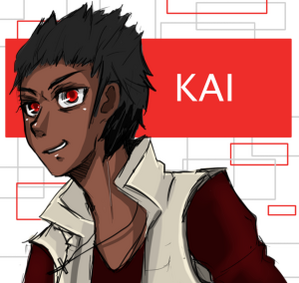 Gender : male
relationships''''' : loves reyo,arisa likes him...
Likes : people,girls,life,hambugers and sweets,Cats and dogs
Dislikes : crime,death in family and friends,and people who makes him mad or tries to kill him
Kai likes to play with reyo and kasa sometimes he always ready to fight if you make him he never loses not ever his past still remains unsolved..
Voicebank : Act 1 : http://www.mediafire.com/download/kz91vfczd48uwla/Kai+the+utau+demon%5Bcompleted+again%5D.zip  http://www.mediafire.com/download/i1m3xg1dri9i0n6/Kai+the+utau+demon.zip
Kai v3 voicebank :  the creator is still working on his voicebank so he'll give you the demo : http://www.mediafire.com/download/zybn8klbyrtvc3y/Kai+v3%28demo%29.zip
so have a nice day~