Utsubyo Bairetto


うつ病バイオレット

NAME INTERPRETATION:
Utsubyo means "depression" and Bairetto means "violet"

TYPE: Unikloid
MODEL:

U-01

GENDER
Female
VOICE RANGE
C3~C5
RELATED CHARACTERS

Utsubyo Murasaki (duet partner, twin sister, lover, fellow Unikloid)

Haru Matosu (best friend, duet partner)

Setsudan Tegata (friend, genderbend, fellow Unikloid)

Shamushamu Koneko (friend, duet partner)

AGE
15
GENRE
Any
HOMEPAGE
None
WEIGHT
150 lbs
CHARACTER ITEM
Lollipop
CREATOR
ScandinavianSweetie
HEIGHT
5"9
VOICE SOURCE
ScandinavianSweetie
PICTURE LINK LIST
DEVIANTART
BIRTHDAY
January 28, 1996
LIKES
Murasaki, candy
MEDIA LIST
YOUTUBE
RELEASE DATE
February 24, 2011
DISLIKES
Her parents, being without Murasaki
SIGNATURE SONG
None

BIO: Bairetto is a very shy and untrusting person due to constant abuse and neglect from her parents and classmates; she has a lot of sadness and unresolved feelings built up inside her. She depends a lot on her sister, who is also her lover. She and Murasaki are constantly together, hardly apart. Bairetto always seems quite content and calm, but inside she is really upset and breaking.

PERSONALITY: Very untrusting and shy; almost completely dependent on Murasaki. She gets very nervous around new people and stutters a lot when talking to them.
Supplemental Information
Hair Color: Brown w/ cream tips
Eye Color: Dark Yellow/Amber
Dressing: Violet dress, black shawl (ends under bust; sleeves end at knuckles), violet flats with white bow at toe area, big white bow on top of head
Sexual Orientation: Bisexual
Nationality/Race: Japanese
Other Info
Bairetto's favorite flavor lollipop is cherry.
Bairetto CANNOT be in public without Murasaki.
Bairetto fears Murasaki will one day tire of her and end all relations with her.
Bairetto likes Murasaki's dominance.
Bairetto doesn't understand sexual innuendos; whenever someone says one to/around her, she just cocks her head in confusion.
Although she is very innocent, she is pretty clever.
MMD (MikuMikuDance)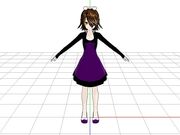 Model made by Kanahiko-chan.
Download here: http://www.mediafire.com/?o6ma0husiz3d3m1
Usage Clause: You can use Bairetto for whatever you want, but if you want to do dirty things with her..... you can't. UNLESS it's mild and with Murasaki.
Voicebank
She works well with any resampler, except for fresamp, which doesn't work on her.
I recommend either the default resampler or bkh01. Maybe TIPS if the song is low enough.
Act 3 Download - http://www.mediafire.com/?mab2gbhsaogm3w8
Act 4 Download - http://www.mediafire.com/?lgehr1r7eg3e3y5
Future Voicebank Plans
Japanese VCV, Korean, English CV VC, and Spanish (Maybe) voicebanks are in store for the future.
Usage Clause
You may NOT claim Utsubyo Bairetto as your own.
NO editing the voicebank. (Pitch changes, etc)
You may NOT use this UTAU to hurt someone or a group of people.
NO sexual acts, UNLESS they are with Murasaki and are mild... And Bairetto has to be the uke/bottom/sub.
Ad blocker interference detected!
Wikia is a free-to-use site that makes money from advertising. We have a modified experience for viewers using ad blockers

Wikia is not accessible if you've made further modifications. Remove the custom ad blocker rule(s) and the page will load as expected.