V10.0 CLOVER


( Japanese: V10.0 クローバー - V10.0 Kuroba )

NAME INTERPRETATION:
V10.0 - the code given by the author, V10.0 means "Voice version 10" (being the tenth YOFUloid)
CLOVER - is a genus of about 300 species of plants in the leguminous pea family Fabaceae.
TYPE: YOFUloid
MODEL: Y-10.0
GENDER
Male
OPTIMUM RANGE
 F3 ~ B4
RELATED CHARACTERS

 Koyone Aiko (Fellow YOFUloid)

Ryota Setsune (Fellow YOFUloid, friend)

Yoshie Setsune (Fellow YOFUloid)

Kuroki Naifune (Fellow YOFUloid, acquaintance)

Sumire Kyoufu (Fellow YOFUloid, friend)

GRIVOIS (Fellow YOFUloid, friend)

ROUX (Fellow YOFUloid)

Yurei (Fellow YOFUloid)

Yumi Koyone (Fellow YOFUloid)

AGE

21 (Official)

14 (Appearance)

GENRE
N/A
HOMEPAGE
YOFUloid's Blog
WEIGHT
47 kg
CHARACTER ITEM
Four-leaf clover
CREATOR
Chocola
HEIGHT / MEASUREMENTS
156 cm
VOICE SOURCE
Chocola
PICTURE LINK LIST
BIRTHDAY
June 17
LIKES
Clover
MEDIA LIST
RELEASE DATE
December 2, 2012
DISLIKES
Rabbit, someone that talking about his real age
SIGNATURE SONGS

N/A

PERSONALITY: Basically calm and mature because his official age is 21, but acts childishly  because he doesn't want people to know his real age.
SUPPLEMENTAL INFORMATION
Hair Colour : Light green
Eyes Colour : Light green
Headgear : none
Headphone : Green with black decoration lines
Nationality : Indonesian-Japanese
VOICE CONFIGURATION
ACT 0.1 - currently supports romaji
ACT 0.2 - encoded in romaji, hiragana aliases added
USAGE CLAUSE
Do not change anything without creator(Chocola)'s permission
Do not claim V10.0 CLOVER as yours
Allowed to use FREELY, not for SALE
Do not use v10.0 CLOVER to sing anything offensive
Do not PITCH the voicebank
Do not COPY the voicebank
Please credit the creator (Chocola) if you use this voicebank and/or character
Make sure to write the name V10.0 CLOVER or  

V10.0 クローバー 

onto your work when using this voicebank and/or character
FULL DESIGN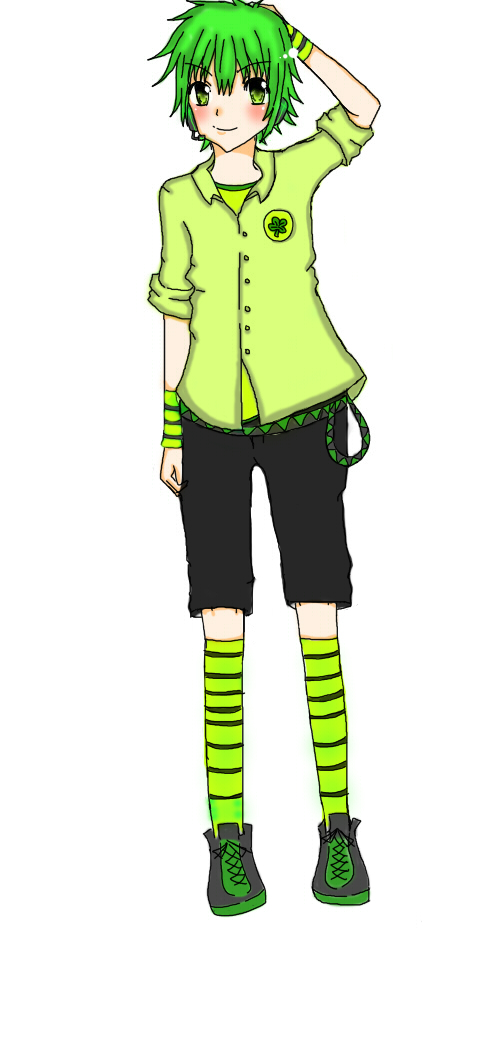 Ad blocker interference detected!
Wikia is a free-to-use site that makes money from advertising. We have a modified experience for viewers using ad blockers

Wikia is not accessible if you've made further modifications. Remove the custom ad blocker rule(s) and the page will load as expected.