Vikotoro Nazucki
Talk

0
4,604pages on
this wiki
 

VIKOTORO NAZUCKI


(Japanese: ヴィコトロ ナズツキ - Vi Ko To Ro Na Zu Tsu Ki)

NAME INTERPRETATION:
("Vikotoro" is deformed word " Victory"

Nazucki doesn't mean anything)

TYPE: VIKOloid
MODEL: VIKO01
GENDER
Male
VOICE RANGE
G2 - E5
RELATED CHARACTERS

VK4 ( His Slave)

H2O (fellow survivor of an scientist)


Rin Kagamine (Has Crush on her)


Konane Sutikku (Friend)

Karasu Yuutsukoe ( husbando)

AGE
15
GENRE
ROCK,HARD ROCK,POP,BALLAD
HOMEPAGE
victorivbf (YouTube)
WEIGHT
172 lbs (78 kg)
CHARACTER ITEM
Radish
CREATOR
victorivbf
HEIGHT
5'9" feet (175 cm)
VOICE SOURCE
victorivbf
PICTURE LINK LIST
CONCEPT ART , PIAPRO, PIXIV, DEVIANT ART, GELBOORU, GOOGLE IMAGE, PHOTOBUCKET
BIRTHDAY
December 20, 1997
LIKES
Blue Fire
MEDIA LIST
NICO NICO DOUGA, YOUTUBE
RELEASE DATE
20th of the May
DISLIKES
His each side, scientists
SIGNATURE SONG
てんしょう しょうてんしょう
PERSONALITY: When he was 14, he got kidnapped by a scientist who decided to do all kind of experiments on him. He got his vocal chords changed,hair colour changed and he also grew out some horns.After the last experiment - Vikotoro died.He went to hell , but somehow he managed to escape.He came to the normal world as the undead imp.Because of visiting hell he got a split personality.When he's on his good side - he acts bad and rude,when vikotoros on his bad side - he acts nice and sweet,but still,kinda cold.
Supplemental Information
Edit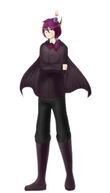 Hair color: Violet
Headgear:
Little crown,In demon state releases little fire out of top of it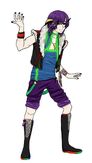 Eye Colour: Red-Green-Blue
Earphones: Doesn't have any
Dress/outfit:Check out his design Nationality/Race: Doesn't have an nationality - Hell child
Favourite Phrase: DIE !
Voice Configuration
Edit
TECHNICAL INFORMATION

Vikotoro Nazucki ALL Voices Information(ヴィコトロ ナズツキ)
ARCHIVE FILENAME
---
ARCHIVE FILESIZE
---
DATE RELEASED
December,20
NO. OF VOICE PHONEMES
---
TOTAL UNCOMPRESSED SIZE
---
PHONEME ENCODING
Kana (Hiragana)
AVERAGE FREQUENCY
C3
FRQ FILE PRESENCE
YES
LANGUAGES SUPPORTED
Japanese
UNOFFICIAL SUPPORTED LANGUAGES
UNKNOWN
OTO.INI PRESENCE
YES
TUNED OTO.INI
YES
LANGUAGE PARSED VIA OTO.INI
NONE
VOICEBANK AUTHOR
Victorivbf
TECHNICAL DIRECTOR
Victorivbf
RECORDING SOFTWARE USED
UNKNOWN
[1]

CV 3.0 CV 4.0 VCV 1.0 VCV2.0 VCV 3.0Power Append(CV1.0) Power Append (Lite VCV1.0) CHAOS

DOWNLOAD LINKS

SPECIAL NOTES: Stable CV Voicebank is Power Append Lite VCV 1.0

CHAOS is 5 pitch VCV voicebank.


Remember, Vikotoro has a large Voice range - experiment with it
The quality of the voicebank is great. Voicebank recorded in recording studio, with studio microphone.
Disclaimer
Edit
[ This page was posted by Subarashiki at the request of the UTAUloid's creator. Subarashiki/SUBAloid is in no way affiliated with this UTAUloid or UTAU group. ]