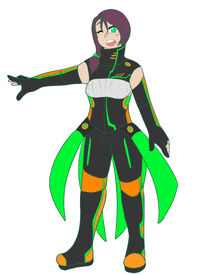 (Japanese: Yokoneビニャ- Yokone Vina)

Type: UTAUloid
Model: Forgotoloid

GENDER Female
VOICE RANGE N/A
RELATED CHARACTERS-
Izyan Yokone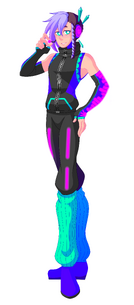 Sunni Yokone
Are her children and are also voiced by CurrySane

AGE- 100
WEIGHT- 150 lbs.
CHARACTER ITEM- Cuthulu Keychain
CREATOR- CurrySane
HEIGHT 6' 4'
VOICE SOURCE CurrySane
BIRTHDAY- December 7
LIKES- Sweets and Green Tea
MEDIA YouTube

RELEASE- December 7, 2010
DISLIKES- Bitter/sour things
SIGNITURE SONG- TBA
PERSONALITY: Stubborn, calm and a major tomboy. She prefers to be alone as opposed to being in a group. That was until she met and fell in love with the old god Cuthulu. She lives in a small home that overlooks the ocean so that she may always be close to her aquatic lover. As she is an elf, her children have elven features but take on more squid-like appearances if they touch the water. She can be found sitting on the cliff edge, singing into the roaring waters, well into the evening. She sings in elvish to Cuthulu but trys for english when speaking and singing to her children.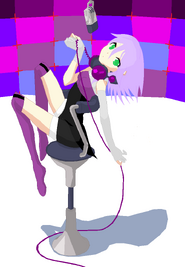 When Vina was first concieved, she looked as she does on the right. Her personality was also much different. However over the years I let UTAU fall to the background and she died out as a result.
You guys knew me as 5Starcountdown, back then, or Star! I focused on UTAU so much that my youtube channel was overrun, haha. I'm trying to get back into that, by updating Vina and her design, as well as creating two seperate voicebanks for her children! Izyan already has one and Sunni is in progress.
This Wiki is plenty old but I hope anyone who still cared about this old doll, still gives it a look!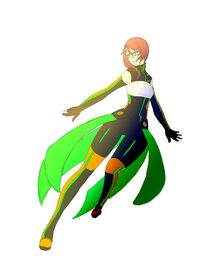 Vina Yokone as she appears in 2018! -------------->

Additional Info:
Hair color: Chestnut brown
Eye color: emerald
Outfit colors: Black, green, orange, white
Usage preference: Use her for anything ya like! However if it's an extremely graphic song, just throw me a line and i'll ok it :)