Mai Kawasumi


(Japanese: まいかわすみ - Mai Kawasumi )

NAME INTERPRETATION:
N/A

TYPE: G3-N758

MODEL: 2

GENDER
Male 
VOICE RANGE
C4-C5
RELATED CHARACTERS

Akane Miura - Best Friend

Leila - Idol

Len Kagamine-Crush

Rin Kagamine-Despise

Haruka-Friend

Hiyama-BFF

'Kazuya Kawasumi- Older Brother,'Secret Crush

 AGE
14
GENRE

Jazz

Pop

Rock

HOMEPAGE
Mai Kawasumi
WEIGHT
120 lbs
CHARACTER ITEM

Len Plush

CREATOR




HEIGHT
4'09"
VOICE SOURCE
Luka Hagiwara
PICTURE LINK LIST
DEVIANT ART
BIRTHDAY

September 28

LIKES

Len Kagamine,his cellphone,banana's, Make Up, His older Brother

MEDIA LIST
Youtube
RELEASE DATE
July 12 2013
DISLIKES
Rin Kagamine,guy's who hit's on him, idiot's, Tei Sukuone
SIGNATURE SONG

Fukai Mori

Judgement of Corruption

SPICE!

PERSONALITY: Mai Kawasumi was raised in a very strict household, his father alway's treated him like a girl because he alway's wanted a girl instead of a b'oy. He has a brother who he love's also because he can speak english and his accent i'n his voice. He love's to chace Len Kagamine and ain't scared of Tei Sukuone. He wanted to be friend's with Rin Kagamine but since he think's that Rin is going out with Len Kagamine.
Character Design
Hair color: Maroon
Eye color: Purple or blue (depending on mood)
Outfit: Black Dress with a hint of blue, Black & Blue boots
Nationality: Japanese
Trivia
He is very mysterious
It is said that he'll be released along with HIYAMA-LOID at the same day
His website is already open for public view
His MMD model can be obtained if you answer a question
Download
http://bowlroll.net/up/dl24795
Still to come.....
Still to come....
Still to come....
Model
1.0 ver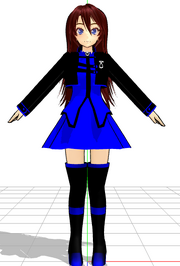 License
Do not edit Voice (changing the pitch in Audacity of recorded file)
Do NOT CLAIM AS YOUR'S!!!!
Credit Luka Hagiwara For this UTAU
PLEASE RESPECT
Not used for Commercial use,R-18, or TV Network
Singing Partners

Akane Miura
Soune Renzi
Group
He is in a group so called "Soune's Debut" which is trying to get all the people to remember Soune Ria,  Soune Renzi,  Shisu Roku, Kuro Kitsunein, and other UTAU's who has abandoned by the author. The group will be open on November 18, 2013
The purpouse for this group is to post alot of cover's usng one of the "abandoned" UTAU's VB. The person may use any Abandoned UTAU that they want, The producer is also free to use a VOCALOID to help promote the abandoned UTAU's VB or even make an MMD PV. The group will end when almost people starts to notice these UTAU's and the people who contributed will also get an exclusive VB of Mai Kawasumi's 3.9 Ver
Ad blocker interference detected!
Wikia is a free-to-use site that makes money from advertising. We have a modified experience for viewers using ad blockers

Wikia is not accessible if you've made further modifications. Remove the custom ad blocker rule(s) and the page will load as expected.