Xìqǔ Shēngyīn


(Chinesse: 戏曲 声音 -'Xìqǔ Shēngyīn)
NAME INTERPRETATION:
戏曲 (Xìqǔ) - Opera
声音 (Shēngyīn) - Sound
TYPE: UNKNOWN
MODEL: 十 (Chinesse for 10)
GENDER

Female

VOICE RANGE

Unknown

RELATED CHARACTERS

(Male counter part)

AGE

15

GENRE
pop
HOMEPAGE
UNKNOWN
WEIGHT
57kg
CHARACTER ITEM
Escrima Stick's
CREATOR
AruValtinas
HEIGHT / MEASUREMENTS
5'5"
VOICE SOURCE
AruValti

PICTURE LINK LIST

DEVIANTART
BIRTHDAY
Oct 22, 1997
LIKES
Fighting,playing RPG's, Classical Music, Sleeping.
MEDIA LIST
YOUTUBE
RELEASE DATE
October 1, 2011
DISLIKES
In the dark, Being alone ,Laughing at her, Teasing her, When see can't smile, Creepy Crawlies, school, Nobody want's her to be her friend.
SIGNATURE SONG
I=Fantasy

PERSONALITY: She is a childish girl that act's like a little bit of tomboyish(or speaks), she act's weird too, shes a emo type, and shy. She want's to smile but for her it's to hard.
Supplemental Information
Hair color: Grey
Headgear: None.
Eye color: Yellow
Dress: Unknown
Nationality/Race: Chinesse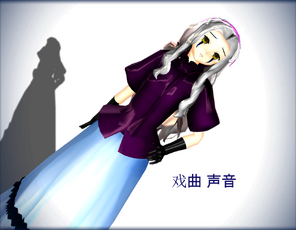 Voice Configuration
Used to record: Audacity
Act 1: Here (Still Incomplete)
Act 2:Here (Key Hint is: Her character item)
Act 3: Here (Hiragana Version, Authentication Key Hint: Her Character Item)
Fact's
The Tattoo's on her face is symbolize her tear's/sorrows.
10 is her favorite number.
Voice parameter for Yan is g+16
Ad blocker interference detected!
Wikia is a free-to-use site that makes money from advertising. We have a modified experience for viewers using ad blockers

Wikia is not accessible if you've made further modifications. Remove the custom ad blocker rule(s) and the page will load as expected.