==

Zhēn== Xuánlǜ

(Japanese:貴重なメロディー Kichōna merodī)

NAME INTERPRETATION:
Xuánlǜ: (Chinese for melody.)
Zhēn: (A Chinese name neaning precious or rare.)
TYPE: UTAULOID
MODEL NUMBER: DW21
| | | | | | |
| --- | --- | --- | --- | --- | --- |
| GENDER | Female | VOICE RANGE | N/A | RELATED CHARACTERS | None yet. |
| AGE | 15 | GENRE | Any, but mainly J-pop. | HOMEPAGE | None yet. |
| WEIGHT | 116 lbs. | CHARACTER ITEM | Bamboo and Rice. | CREATOR | Lindsey |
| HEIGHT | 5'1 ft. | VOICE SOURCE | Lindsey | PICTURE LIST | See Supplemental Information. |
| BIRTHDAY | December 21st | LIKES | Food, Sports, Manga, Video Games, Art, Science, Ninjas, Coffee | MEDIA LIST | Xuánlǜ has a youtube coming out soon. |
| RELEASE DATE | N/A | DISLIKES | Pink, Flowers, Butterflies, Dressing Up, Pirates | SIGNATURE SONG | None yet. |
PERSONALITY: Xuánlǜ is a big tomboy. She's kind of a jerk, and very headstrong, but she'll stick with her friends to the end.
Supplemental Information
Hair Color: Orangeish Blonde.
Headgear: A pair of rainbow headphones.
Eye Color: Aqua blue.
Dress: A red and gray/black kimono,and gray/black boots.
Nationality/Race: Chinese-American.
Xuánlǜ always has Pya with her. Pya is a little ball with a lighting up antenna. He can be seen in Xuánlǜ's Full body picture below.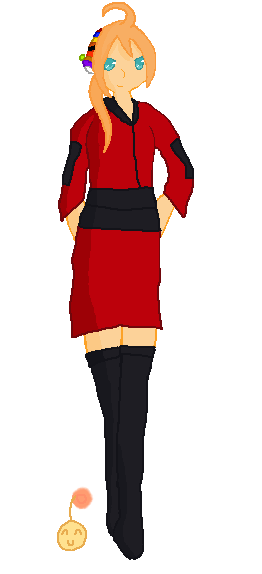 Voice Configuration
Xuánlǜ is a Japanese (and possibly Chinese) voicebank. I plan to give her a Romanji and Kana voicebank, and possibly a Hirigana voicebank.
As soon as she has a completed voicebank, I will post a download link.
Usage Clause
You may NOT pitch her voicebank other than gender flaggng.
Religious, criminal, and/or grotesque expression using this character is forbidden.
It would be nice if you credited me in your works, but you don't have to.
You may NOT use her voicebank for commercial purposes.

All information here is certified true by the author. The details seen here may be subject to change without prior notice.
Ad blocker interference detected!
Wikia is a free-to-use site that makes money from advertising. We have a modified experience for viewers using ad blockers

Wikia is not accessible if you've made further modifications. Remove the custom ad blocker rule(s) and the page will load as expected.