Yami Hono
Name:
闇( Yami - Darkness)
炎(Hono - Flame)
Type:Utauloid
Model: 44
GENDER
female
AGE
16
WEIGTH
48kg.
HEIGHT.
173cm (pretty tall).
CHARACTER ITEM
A Giant lollipop
CREATOR

Redcandy44:

BIRTHDAY
January 11th 1990

RELEASE ''''DATE

29th of September 2012.
LIKES
Gore, Video games, Candy, Weapons,Eating and Drawing
DISLIKES
Vegies and Clowns
GENRE
All
RELATED CHARACTERS

Zastune Miku (friend/idol)

Hagane Miku (Friend/idol)

Teto Kasane (Friend)
Personality: Yami is a very lound and Crazy person. She is also very friendly, kind and talkative. She is serious gamer addict and does sleep. Yami is a bit of a phsyco and love blood and gore. She doesnt think shes Human ; Shes a bit of a weird one.
Hair colour: Greyish white amd red CHIBI EXAMPLE :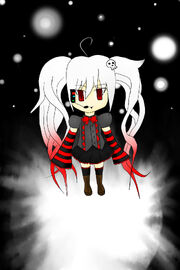 Eye colour: Red
Head gear: Skull clip and Black head phones.
Favourite Phrase:"Humans are Weird Creatures".
Race/Nationality: Japanese.
Clothing Colours: White, Black and Red.
Clothing: Black Skirt with red lace, Dark grey button up top with an crimson Bow tie, Black and red sigzag suspenders, Black knee high boots with Red and dark grey striped arm bands with a little skeleton hair clip.
Ad blocker interference detected!
Wikia is a free-to-use site that makes money from advertising. We have a modified experience for viewers using ad blockers

Wikia is not accessible if you've made further modifications. Remove the custom ad blocker rule(s) and the page will load as expected.