Yari Kurae
Talk

0
3,606pages on
this wiki
Added by

Miyako Yari

 

YARI KURAE


(Japanese: 暗絵 ヤリ -

Kurae Yari

)
NAME INTERPRETATION:
暗絵 (

Kurae

;

Darkness

)
ヤリ (Yari;

Nickname/Cybername of her Author

)
TYPE:

RECLOID


MODEL:

K4

- K meaning is Kurae and 4 is the total of "Yari"s name alfabet.
GENDER
Female

VOICE RANGE

C4-A4 (Power Voice Type)

RELATED CHARACTERS

Kazuki Kurogane (Best Friend/Like)

Kurogane Karirin (Friend & Rival)

Saane (Best Friend)

AGE
14 (official age)
GENRE
Pop-Rock, Jazz
HOMEPAGE
WEIGHT
45 kg
CHARACTER ITEM
Signal Symbol
CREATOR
HEIGHT
158 cm

VOICE SOURCE

ミYarii (Utaitte aliases) aka Miyako Yari

PICTURE LINK LIST

Concept Art
BIRTHDAY

February 13, 1997

LIKES
Playing Phone, Browsing, Singing
MEDIA LIST
RELEASE DATE
August 13, 2011
DISLIKE
Talkative, Annoying, Caterpillar
SIGNATURE SONG
Coward Montblanc
PERSONALITY : She is Tsundere type. She act cold to other but actually she cares about them. Especially with Kazuki, she would immediately turn into Tsundere type. She is don't has many friend (maybe). "Hitori de ii yo!"
Character Design
Edit
Hair color:
Black, Blue, and Red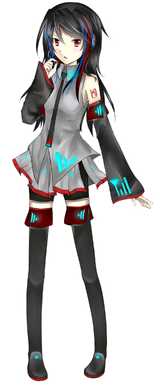 Eye color:
Light Red
Headphone:
White, Blue, Light blue, Red
Dress:
Grey, Light blue ;
Tie:
Black, Light blue, Red
Armwarmer:
Black, light & dark red, and light blue (signal icon (bottom) just for left armwarmer).
Language she can sing : Japanese and Indonesia
Nationality : Indonesian
Favorite Quotes: "Nan?" ; "Baka janai??" or "Omae wa betsu ni BAKA!!" ; "Urusai wa nee!" <---Tsundere quotes
High Quality of Concept Art: http://fav.me/d5nhp13
Voice Configuration
Edit
Her voice bank support Hiragana + Romaji. Please, you must use H10Y0g-F-40T40 in rendering options before you used Yari VB for sing a song.
Voice Bank :
Voice Bank Coming Soon:
Append Dark / Cool (more softer) --- inprocess
VCV --- inprocess
You can fix her oto.ini. If you have any problem with her VB, please contact me via Facebook or DeviantART.
She dislikes annoying and talkative people
She is Karirin's rival. Because if she so close with Kazuki, Karirin (Kazuki's little sister) always mad (jealous)
Blushing~ She's Tsundere
Her Voice From The Author and not use pitch
Kurogane Kazuki is male counterpart by pitch manipulation (Add "Y0g+8F-40T40" on her rendering options)

She's always playing with Kazuki

She is bad in low notes/range
Usage Clause
Edit
Please DO NOT EDIT information that already given without permission her CREATOR.
Do not change any appearances that already be given out unless there are changes that have been made by the creator.
DO NOT pitch the voicebank.
Allowed to be use freely, but NOT for sale.
DO NOT use the name for a Role Play.
DO NOT COPY HER VOICEBANK
FREE FOR ANY RELATION