Yin/Yang

NAME INTERPRETATION:
Yin: (in Chinese philosophy) The passive female principle of the universe, characterized as female and sustaining and associated with earth, dark, and cold.

Yang: (in Chinese philosophy) The active male principle of the universe, characterized as male and creative and associated with heaven, heat, and light.

TYPE: Bechaloid

MODEL: Bechaloid 11

GENDER

Yin-Female

Yang-Male

VOICE RANGE

Yin A5-G3

Yang A5-G3

RELATED CHARACTERS
RedScorpion (like an older sister)
AGE

Yin-13

Yang-13

GENRE
HOMEPAGE
WEIGHT
CHARACTER ITEM

Yin- to be confirmed

Yang- to be confirmed

CREATOR
Becha27
HEIGHT / MEASUREMENTS
VOICE SOURCE
Becha27's voice
PICTURE LINK LIST
BIRTHDAY
June 11th 
LIKES

Yin- singing, music, Yang.

Yang- singing, music, Yin.

MEDIA LIST
RELEASE DATE
29th of August 2013
DISLIKES

Yin- people who pick on Yang.

Yang- being seperated from Yin.

SIGNATURE SONG

PERSONALITY: Yin- the domenant one of the two. She is more of an extrovert than her brother. She can be very protective of her brother, if someone tries to hurt hiim she will hurt them. When someone is not posing a threat to her beloved twin brother she is a very firendly and kind person. Both Yin and her brother are quite intellegent.

Yang- the introverted, whimpier one of the two. He is almost the complete opposite of his twin. He relies on Yin for protection because he tends to be picked on alot because of his feminine appearence. Yang doesn't talk much because he is so shy and usually lets Yin do all the talking (except when he's singing). Both YAng and his sister are quite intellegent.
This UTAU voicebank is a Bechaloid, Bechaloid is an unofficial group, we (Me, Myself and I) do not make money from this product yet all rights of the character and voice belong to Bechaloid.
Appearence
'Hair': Yin- light silver, long, partly in a pony tail
Yang- black, short, up in a pony tail
Head: Yin- black headphones, small black ribbon, black bow
   Yang- white headphones, small white ribbon, white bow
Eyes: Yin- dark grey
  Yang- light grey
Outfit: Yin- white dress with black frills and a bow, black fingerless gloves, black thigh-high boots with white white stripe
  Yang- black dress with whites frills and a bow, white fingerless gloves, white thigh-high boots with black stripe
Markings/Tattoos: the gemini symbol on right arm for Yin and left for Yang.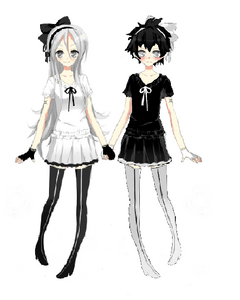 Voice Bank Download
Here.
Two voice banks: male and female
English/Japanese
Romaji encoded
Ad blocker interference detected!
Wikia is a free-to-use site that makes money from advertising. We have a modified experience for viewers using ad blockers

Wikia is not accessible if you've made further modifications. Remove the custom ad blocker rule(s) and the page will load as expected.