Yuka TAKAHASHI


(Japanese: 髙橋・由華 / 髙橋・ユカ)

NAME INTERPRETATION:
髙橋 (Takahashi; "high bridge")
由華 (Yuka; "reason, beautiful")
TYPE: UTAUloid/SHIONGAKU
MODEL: 611 - Her date of birth (d/mm).
GENDER
Female
VOICE RANGE
NOT CONFIRMED
RELATED CHARACTERS
Coming Soon!

AGE
16
GENRE
ROCK/ALT POP
HOMEPAGE
WEIGHT
8.6 stone (120.4lbs)
CHARACTER ITEM
Hammer/Bat, or Soda can
CREATOR
Ti-Pai
HEIGHT / MEASUREMENTS
5'9 ft

(175.25cm)

VOICE SOURCE
Ti-Pai
PICTURE LINK LIST
Coming Soon!
BIRTHDAY
November 6th.
LIKES
Manga, Heavy weapons, Animals
MEDIA LIST
https://soundcloud.com/tigi-senpai
RELEASE DATE
18th March, 2017.
DISLIKES
Angry shouting, Loud noise, Narcissists, Losing.
SIGNATURE SONG
https://www.youtube.com/watch?v=ndc-C2FbS3U
PERSONALITY: Yuka is a mayadere, which means she may say things that come across like she doesn't care about you, but on the inside she is a sweet, loving girl who only wants to have fun. Yuka's classed as a delinquent at school; she spends her time with her friends at the back of the school field, telling them sarcastic jokes and smoking.

== Full lore coming soon! == ''''
Supplemental Information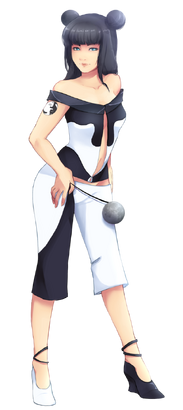 Hair colour: Full fringed bob, or space buns, depending on her outfit.
Headgear: Earphones underneath her hood.
Eye colour: No set colour, though an aqua blue is suitable.
Outfit: Her default outfit is an unzipped hoodie, with a tank top and black, medium thigh length shorts. She wears high-top black converse and white ankle socks underneath also. Though her hoodie and top don't have a set colour, a cold palette seems ideal for Yuka.
Nationality/Race: Native Japanese.
Other information: Yuka has a pear-shaped figure with B-C cup breasts and thick thighs.
Art to the right by SKiyoshi.
Voice Configuration
N/A
Usage Clause
Yuka may be used for any non-commercial business. Redistribution of sources is not allowed under any circumstances. Make sure to credit back to myself and the artist if you use Yuka's art.
=== CV_NORMAL -- One pitch: https://mega.nz/#!ec8mDKKC!iDbGVDMIrCDV2cyiQ-ixFbwAfUFNw4vDswHPHlRR2zk
CV_POWER -- One pitch: https://mega.nz/#!vRc3HDaa!TZLLZ4gsOR8D1M8ov5v4W0STNK4DOP0kXoitywRQV54
CV_SCREAMO: [https://mega.nz/#!CAslkAwT!kcGwgRpsOmY2Zjteuz5iDZbGi5gQoWEI2DqJiaxl3dc https://mega.nz/#!CAslkAwT!kcGwgRpsOmY2Zjteuz5iDZbGi5gQoWEI2DqJiaxl3dc
]

VCV_DEEP: https://mega.nz/#!icFHlB4C!3EFtO-QE7TOSi5I2ub9GnwUI4ngYpwQxzQ94DL9vZZI
VCV_SOFT: https://mega.nz/#!Xc92zSyQ!XzSVWkfE0VuEEGA6ebjZNi4N2Iu3wVq0QbRlKMfktSU
VCV_BIPITCH: https://mega.nz/#!XMVwjaKa!Z76s0KboUzYdtYWnlBTYvmlp3fX-mftlXkvUjqmbHVo
VCV_WHISPER (NOT FINISHED): https://mega.nz/#!7Z1AwDwZ!1G7qI68wQw1ouWS5OyU_-6qjF9WBy9XWRD8-bEIWM9U ===