Yukaine Sakura




Sakura Yukaine

NAME INTERPRETATION:
Cherryblossem, happy sound
TYPE: rebelli-loid
MODEL: 01010011
GENDER
Female
VOICE RANGE
C3-C5
RELATED
CHARACTERS:
Yukaine Sakura has no relationships
AGE
14
GENRE
J-pop
HOMEPAGE
http://utau-yukaine-sakura-official-page.weebly.com/
WEIGHT
Secret
CHARACTER ITEM
Bow and Arrows
CREATOR
kYOUK0 (Kiera Brand)
HEIGHT
153cm
VOICE SOURCE
kYOUK0 (Kiera Brand)
PICTURE LINK LIST
Not available
BIRTHDAY
1st April
LIKES
Hatsune Miku, Kagamine Len, Archery, Stuffed Animals, Smiles
MEDIA LIST
Unknown
RELEASE DATE
Yes
DISLIKES
Sukone Tei (but likes her voice)
SIGNATURE SONG
https://soundcloud.com/inkyuma/song-of-eared-robot-sakura-yukaine-utau-cover
ADDITIONAL INFO: Sakura is a young, bisexual, sweet little girl, she is half English and half Japanese. Sakura wears a sleeveless yellow jacket, with long grey, fingerless gloves attached, she has a flowy white skirt and purple cat stockings and big brown boots. She also wears a big purple cat hat.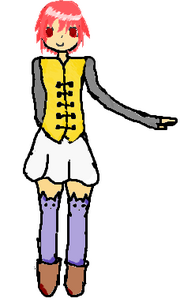 Personality: Sakura is a sweet girl. She is interested in archery and vocaloid. Sakura is interested in Japanese foods (especially pocky) and will get sad when people don't share with her. Sakura justs wants to make the world smile with her music.
Section heading
Hair color: Red and spiky Eye color: pink or brown. Headphones: black with a bow near the mic Dress: grey outfit with bits of pink Nationality/Race: half British half Japanese
Section heading
Write the second section of your page here.
Ad blocker interference detected!
Wikia is a free-to-use site that makes money from advertising. We have a modified experience for viewers using ad blockers

Wikia is not accessible if you've made further modifications. Remove the custom ad blocker rule(s) and the page will load as expected.