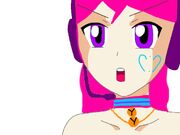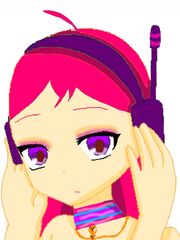 == Yukina Neko == Neko Yukina 雪な猫又 Type- Engloid
Gender- Female
Voice Range- unidentified
Related characters: Yukinari Neko (twin) Burieno Wakayama (boyfriend)
Age: 12
genre- jpop
homepage- Cosplaycollect/ twitter
weight: 98 lbs.
character item- cookies
creator- Yuri U~irukinsan
height- 4' 12
voice source- Oburi Neiru
picture link- On this wikia
birthday- August 20, 2000
likes- cookies, dancing, helping animals
media list - coming to youtube
release date- August 20, 2011
dislikes- wolves, death, being alone
signature songs- "Moonlit march" "Princess of fear"
Personality: Being seen as just a Kawaii and talented little girl, who is serious and playful. when she was young she was Princess Yukia Nekoma, and is terrified of the color yellow for it destroyed her home and she become Yukina Neko.She loves the colors pink and purple, and is sometimes seen as a 17 year old. As a princess she has to marry at age 13 and was arranged to marry Burieno Wakayama.
Hair color: Pink, with curls and a cowlick
Headgear: none
Eye color: Purple
Headphones: Dark purple with heart shaped earpieces
Dress: Grey tube top with pink bow and gold and lace, with purple detatched sleeves with pink lace. with a grey skirt with white under layer, and a purple belt and pink and gold chain side belt. with black sleeves with purple tops and pink side lines. She also wears a special necklace with gold bells, and black boots with knee high pink socks.
Nationality/Race: Human, half japanese half american.
Favorite Phrase: Watashi wa itsuka wa shinu shinakereba narimasen shitte irunode, watashi no kichona jikan o muda ni sutoppu! ( I know someday I will have to die so stop wasting my precious time!)