恵美音 裕子

( Romaji : Emine Yuko )

NAME INTERPRETATION: 

裕子 ( Yuko ) meaning " affectionate child. "

恵美音 ( Emine ) meaning " beautiful blessing sound ."

GENDER
Female
VOICE RANGE

D#3 - A4

RELATED  CHARACTERS 


Suikomi Kiei ( Friend )

AGE

4367 ( looks 17 )

GENRE
Ballad, Pop, Rock, etc.
HOMEPAGE
WEIGHT
104 lbs.
CHARACTER ITEM
Lattes
CREATOR
Hyal0clast
HEIGHT

5'7" ft.

(152.4 cm.)

VOICE SOURCE
Hyal0clast
PICTURE LINK LIST
DeviantART
BIRTHDAY
September 10th
LIKES
Coffee, Boba, food, sleeping, cute things, and anime.
MEDIA LIST
RELEASE DATE
November 2nd, 2013
DISLIKES
Stinky people, strong perfumes, things that are not even.
SIGNATURE SONG

PERSONALITY: Yuko is a playful and cute type of person. ( Kinda of sadistic at times. ) Due to her personality she is the type of person that like to mess with people ( out of love :) ) and gets nicer as you get to know her . She tends to keep things very simple and is a bit neat freak. Most of the time she binds her chest because she hates the " gravitational pull, " it has on her when she runs around or dances. Things that are uneven bothers her greatly. Plus, she hates messy wrinkles with a passion.

ADDITIONAL INFORMATION:

Likes to sit on Rei when he gets super bad cramps. :)

Kiei often complains for Yuko to carry him because he' s a princess.
Supplemental Information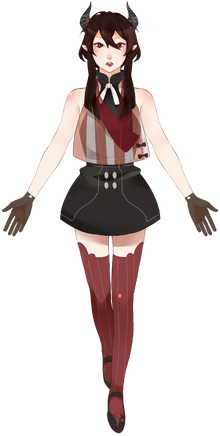 Hair color: Dark Brown.
Headgear: Horns.
Eye Colour: Fire Brick / Redwood
Earphones: She wears none.
Dress/outfit: See image to the right. 
Nationality/Race:   Half - Demon  
Favourite Phrase: " Can I sit on you? "
TECHNICAL INFORMATION

Emine Yuko ALL Voices Information ( 

恵美音 裕子 )

ARCHIVE FILENAME
---
ARCHIVE FILESIZE
---
DATE RELEASED
November 2, 2013
NO. OF VOICE PHONEMES
---
TOTAL UNCOMPRESSED SIZE
---
PHONEME ENCODING
Romaji
AVERAGE FREQUENCY
A3-C4
FRQ FILE PRESENCE
YES
LANGUAGES SUPPORTED
Japanese
UNOFFICIAL SUPPORTED LANGUAGES
UNKNOWN
OTO.INI PRESENCE
YES
TUNED OTO.INI
YES
LANGUAGE PARSED VIA OTO.INI
NONE
VOICEBANK AUTHOR
Hyal0clast
TECHNICAL DIRECTOR
Hyal0clast
RECORDING SOFTWARE USED
Oremo

CORE Banks :

CV :  VCV : VCV1.0

Appends :




CV :

VCV :

SOLACE ( Basically Yuko Multipitch CORE. )




CV :

VCV :




CV :

VCV :




CV :

VCV:




CV :

VCV :

Languages :

DOWNLOAD

LINKS
Bank Information.
​CORE banks are basic, normal singing banks. Yuko is singing in her normal voice. Her CORE banks are all mono - pitch.
​Yuko' s SOLACE banks are similar to her CORE banks. The only difference is that her SOLACE banks are multi - pitch instead of mono - pitch.
IVORY
CRIMSON
VIRILE
MIST
Disclaimer
Ad blocker interference detected!
Wikia is a free-to-use site that makes money from advertising. We have a modified experience for viewers using ad blockers

Wikia is not accessible if you've made further modifications. Remove the custom ad blocker rule(s) and the page will load as expected.