==Yume Neiko==
(Japanese: ゆめ・ねいこ)
NAME INTERPRETATION:

Yume: ゆめ (Dream)

Neiko: -

Disclaimer:
TYPE:

UtArtloid

01 (VocArtloid)
MODEL:

24

- a "24" signal in the right arm at the shoulder can be found.
| | | | | | |
| --- | --- | --- | --- | --- | --- |
| GENDER | Female | VOICE RANGE | - | RELATED CHARACTERS | |
| AGE | 20 | GENRE | Pop, Rock, Classic, (etc) | HOMEPAGE | |
| WEIGHT | 56 kg | CHARACTER ITEM | Hedgehog (Zero), Strange headphone, flute | CREATOR | |
| HEIGHT | 174 cm | VOICE SOURCE | Dreamer-Moongeisha | PICTURE LINK LIST | |
| BIRTHDAY | January 24th | LIKES | Reading, flute, blueberry, karaoke, ddr, her hedgehog (Zero), Mamoru, friends | MEDIA LIST | and |
| RELEASE DATE | February, 24, 2012 | DISLIKES | Broccoli and idiot people | SIGNATURE SONG | |
PERSONALITY:

She shows off hard feelings. She was not used to smile, unless it is Zero, the hedgehog. Or Mamoru Kyo, whom she is madly in love. Quiet girl, are generally very place of her mind. Most logical way of thinking. She don't like to people the closeness of the personal aura.
Character Design
Hair color: Long purple hair.
Eye color: Turquoise.
Shirt: Cut-out purple coveralls.
Feet: Comfortable purple boots.
Other: Strange headphone.
Nationality: Hungary
Catchphrases
"Shut up, and go out."
"No."
"Yes."
"'~Mamoru~ *heartbeat* *heartbeat* *heartbeat* "

"Another a word, and you "

"Yes, Miku and Lily is the best. Objections?"
Voice Configuration
Download: ACT 1 RELOADED
Full Name
In Hungarian: ?
In stage name: Yume Neiko

Please just keep to her stage, and release name.
Facts
She usually singing Miku's and Lily's songs.
There's a hedgehog.
She likes to read hentai manga, but this is usually not admit it to anyone.
She favorite mangaka Shinjou Mayu.
The broccoli can be chased away from the world.
Madly in love with Mamoru Kyo.
She was not used to smile.
Usage Clause
Do not change her design unless just clothing for a specific song.
Please DO NOT use any other pitches than has been given in the info above.
Allowed to be used freely.
If you use, you show me, please ~ >3<
Designe by Serahime-hana, Creator by Dreamer-Moongeisha. Please, write in if you are using.
Please do not change her info.
Reference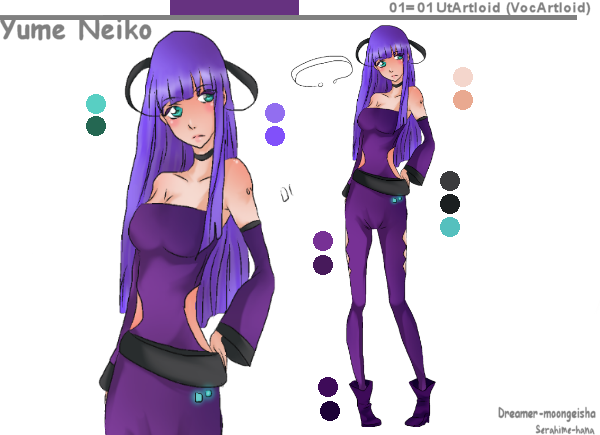 Ad blocker interference detected!
Wikia is a free-to-use site that makes money from advertising. We have a modified experience for viewers using ad blockers

Wikia is not accessible if you've made further modifications. Remove the custom ad blocker rule(s) and the page will load as expected.