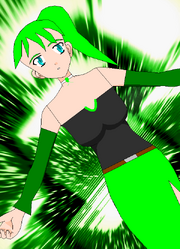 History
Yuuki Soul is an Utau made with the voice of Shoshanna and may be the first female Utau from Australia. She was created in 2008 but stared work more clearly in 2010. She was at first called 'Yuki' but when Yuki Kaai came out her name was changed to 'Yuuki'
Supplemental Information
Hair: Neon green in a pony tail. (sometimes grey and out)
Eyes: Neon blue.
Shirt: Dark grey spagetti strap with a neon green cut
Skirt: Long neon green with a cut.
Shoes: Long grey boots.
Arm warmers: Dark Green
Necklace: White with a green gem and light green string.
Voice bank
We are unable to upload Yuuki's voice bank due to the fact that someone tried to share it as their own. We are sorry.
Trivia
Yuuki has her own Twitter acount.
Yuuki has the power to control ice and snow.
Yuuki has an older sister called Denko, a younger sister FAIA, a brother called Kusa, and her mother's name is UINZA.
Her character item is a snow cone.
Some people think her character item is icecream.
Acording to her Twitter account, she is made of Data and ice.
She lives in Shoshanna's laptop and can only come out if it's cold or she will melt.
Ad blocker interference detected!
Wikia is a free-to-use site that makes money from advertising. We have a modified experience for viewers using ad blockers

Wikia is not accessible if you've made further modifications. Remove the custom ad blocker rule(s) and the page will load as expected.