| | | |
| --- | --- | --- |
| |   | Zeikku Tatsumaki |

NAME INTERPRETATION:
ぜ いく(Zeikku) - His name doesn´t have sense.

たつまき('Tatsumaki') - Tornado.

TYPE: UTAUloid
MODEL: SH-44-K (The "44" can be founded in his back, near his right shoulder)
GENDER
Male
VOICE RANGE
F#3, C4
RELATED CHARACTERS

None.

AGE
14
GENRE
Any
HOMEPAGE
Homepage
WEIGHT
61Kg
CHARACTER ITEM
Scythe
CREATOR
Rexafrek (Rexa)
YouTube
HEIGHT / MEASUREMENTS
 1,72cm
VOICE SOURCE
Rexafrek (Rexa)
PICTURE LINK LIST
ConceptArt
BIRTHDAY
April 5th
LIKES
Sharks, Wind, Blood, Scythes, Anime, Draw, The Smell Of Gasoline
MEDIA LIST
YouTube
RELEASE DATE

April 5th, 2013

DISLIKES
Bullies, Screamers
SIGNATURE SONG

PERSONALITY:
Zeikku is a quiet boy who acquired a shark-sharp teeth due to a mutation at birth.                             He doesn´t many friends because he is kinda shy.                                                                          
Character Design
Hair color: A gray-green tonality with spikes in the back and long bangs in the front.
Eye color: He is blind, so his eyes are white.
Hoodie: Black hood and gray hoodie with horizontal green lines on the sleeves.
Shorts: Black nylon shorts with horizontal green lines one the sleeves.
Feet: Black shoes.
Nationality: Venezuelan

Catchphrases
Translates into: "Although i cannot see it doesn't mean that i cannot sing"
Translates into: "If you are not going to talk to me then get out of my way"
Translates (From Venezuelan spanish) into: "I´m so bored"
Voicebank
Zeikku Tatsumaki ACT2: http://www.4shared.com/rar/c-8aDZ49/Zeikku_ACT2.html? (most of the words completely configurated, in romaji by the way)
Zeikku Tatsumaki APPEND Dark: http://www.4shared.com/rar/kEO0YM6Hce/Zeikku_Tatsumaki_Append_Dark.html? (For sad songs mostly, it has a little whisper effect in some of the records)
The first ACT has a lot of errors and i don´t think that you wanted to download it so i recomend to use ACT2 by now.
I'm planning to do a CV-VC English voicebank, VCV Spanish voicebank, and a VCV voicebank, but just in a couple of month or less, i'm not sure of the time that is gonna take me.
Now actualizing, VCV Japanese voicebank its ready, just a few configurating stuff and ready to release! Also im starting recording a CV-VC English voicebank c:
Extra Character Relation
Art Gallery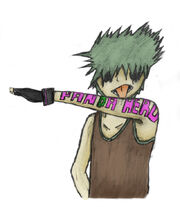 Ad blocker interference detected!
Wikia is a free-to-use site that makes money from advertising. We have a modified experience for viewers using ad blockers

Wikia is not accessible if you've made further modifications. Remove the custom ad blocker rule(s) and the page will load as expected.