ZERO SAIGONE


(Japanese:最後音ゼロ  - さいごねぜろ - Saigone Zero)

NAME INTERPRETATION:


最後音 (Saigone) - ''Last Sound'', ''End Sound

ゼロ(Zero) - Zero

NAME INTERPRETATION: Zero means a start or an ending. This is why her surname is ''Last Sound''. Zero is also known as Zero Tachibana. (Her old name)

TYPE: UTAUloid
GENDER
Female
VOICE RANGE
E3~G5
RELATED CHARACTERS

Mami Kazene (UNKNOWN)

Noji (friend)

Azaya(friend)

Rimu Galaxine (friend)

Aioi(Best Friend)

Minami Ai(Enemy)





         

AGE

15

GENRE
Any
HOMEPAGE
Weebly
WEIGHT
39kg
CHARACTER ITEM
Coke
CREATOR
İrem Kuyucu(Tori Tachi UTAU)
HEIGHT / MEASUREMENTS
170cm
VOICE SOURCE
'İrem Kuyucu (Tori Tachi UTAU)'
PICTURE LINK LIST
-
BIRTHDAY
23 January

2013

LIKES
Coke, potatoes, orange colored things, sea food, trolling people, helping
MEDIA LIST
RELEASE DATE
27 March 2015
DISLIKES

Boring people with no talents, being ignored, weeboos, fangirls, shippers 

SIGNATURE SONG
Kimi no Kakera
PERSONALITY:Zero has a cold and creative personality.
Supplemental Information
Hair color: Generally purple but sometimes dark blue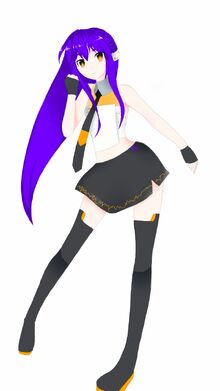 Headgear: Headphones
Eye color: Orange, and on some occasions light brown or brown
Headphones: White headset with orange illumination.
Dress: Gray outfit with purple, orange trimmings and highlights. A very long tie. See concept art for details.
Voicebanks
Zero Saigone CV 0.1.0 *not available*
Zero Saigone CV 0.2.0:
https://drive.google.com/file/d/0B6gjN8i4pdnVcTFGN1U0VkVWZXM/view
Zero Dark Append *not available*
Zero Turkish *not available*
Ad blocker interference detected!
Wikia is a free-to-use site that makes money from advertising. We have a modified experience for viewers using ad blockers

Wikia is not accessible if you've made further modifications. Remove the custom ad blocker rule(s) and the page will load as expected.